The "dog days" of summer have definitely arrived in Puerto Vallarta
Our rebuilding continues; and volunteers join us for early morning walks to exercise and socialize the dogs, help keep the kennels clean, and provide water therapy for those in need.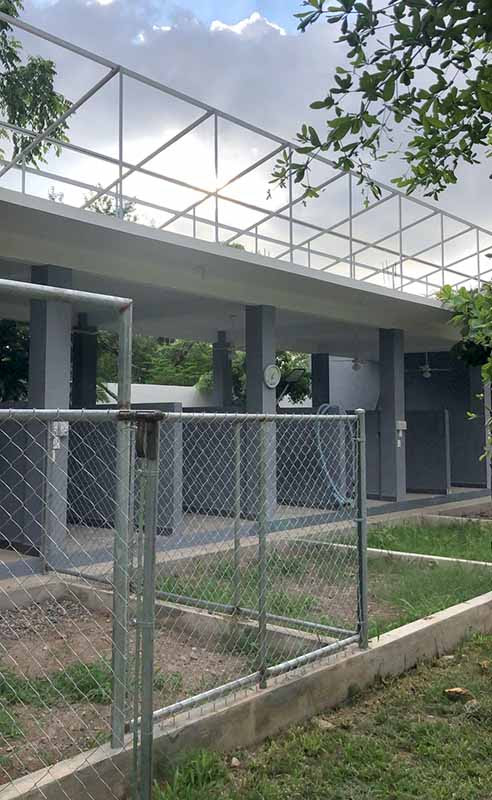 The solar panels that were saved from the hurricane are being reinstalled this month! It will cost $4,200 USD to remount them, but we will save over 90% on our monthly electricity costs. Please consider a donation to help with the installation and keep our operating costs low!
Despite our shelter not being at 100% yet, rescues and adoptions are still going.
A momma dog on a nearby farm recently had a litter of 8 puppies. Unfortunately, the owners have few resources to care for that many additional animals.

We agreed to provide veterinary care and support for all of the puppies. Once weaned, healthy, and vaccinated, the owners gave three puppies away while we continue to care for 4 at the shelter and have one in foster to continue recuperating from parvovirus that would have taken his life.
Omega is a 10 year old lab mix that came to the shelter over 4 and years ago. He is a mature and quiet dog that loves attention from his human visitors. Once you start brushing or petting him, he'll gently remind you that it's not time to stop! For most of his life he lived on a ranch helping to herd cows. A broken leg ended his working life and we gladly accepted him at the shelter.  Omega has never had his own human or place to call his own home. If you live in Puerto Vallarta, would you like a new companion for the rest of his senior years? Or, please consider sponsoring Omega to enable us to continue to provide love and support to him and the other shelter animals.
SPONSOR OMEGA! 
We are beyond thrilled with Pancha's happiest ending. After 2 years at the shelter she has found a home in California.
Pancha is a 11 year old pittie that was at the shelter for the last 2 years. She had many, many litters and was probably used for breeding. Last year a visitor to Vallarta met Pancha and reached out to us to become her monthly sponsor. On her return trip to Vallarta this year, she fell even more in love with Pancha and decided that she needed to adopt her into her family. Given the breed, size, and airline restrictions, it wasn't possible to arrange a flight, so we arranged for private car transportation which her new family happily covered. Pancha is now living her best life in Northern California!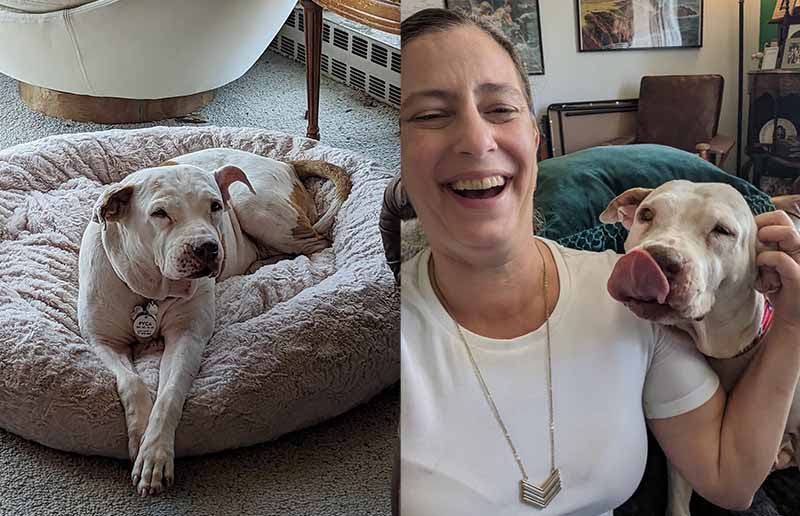 SPAY AND NEUTER CLINICS CONTINUE AT THE SPCA PV SANCTUARY
On July 17th, we treated 45 animals at our Spay and Neuter Clinic. This literally prevents thousands of unwanted, and unfortunately, often uncared for animals. Monthly Spay and Neuter Clinics are a core part of the SPCA mission to protect and care for the animals of Vallarta. 
We have also opened Casita Ruby as a licensed Veterinary Clinic on site at the SPCA PV shelter. The clinic provides spay and neuter services, in addition to our monthly events, and provides basic care to animals that would normally have no access to care.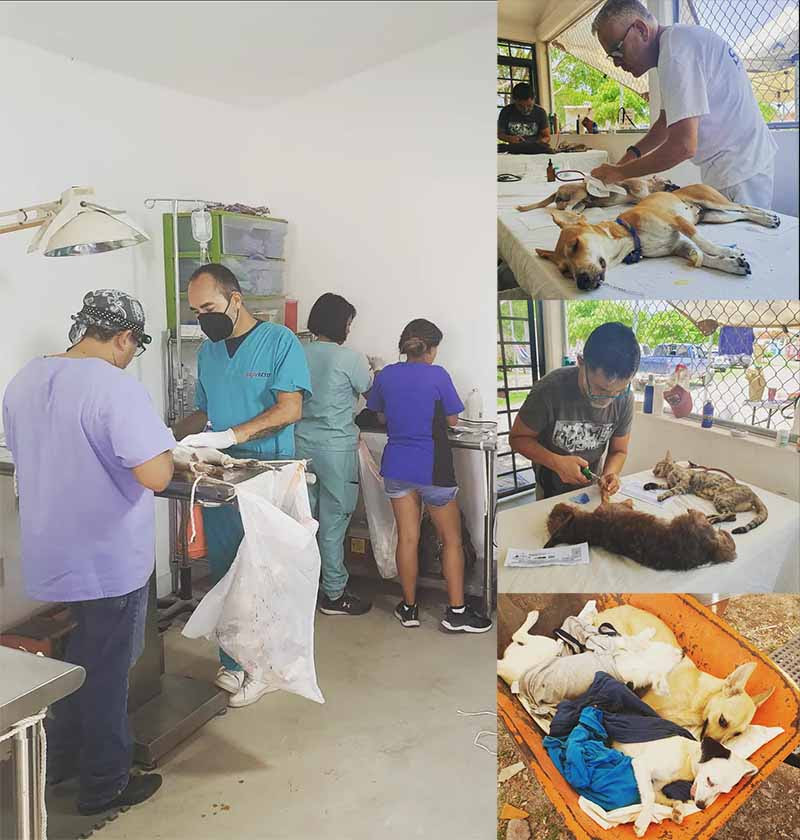 We have started providing free care for dogs with TVT, which is an infectious cancer that spreads amongst dogs.
We are already treating 2-3 new dogs each week at a cost to us of $2,500 to $4,500 Pesos per dog. The medicine is very expensive. As word of the availability of treatment spreads, we expect to be able to care for many more infected dogs that otherwise wouldn't be treated.
We need your support to continue to provide these services to animals that have few other options. Please consider a donation to help build one of the only no/low cost veterinary services in Puerto Vallarta.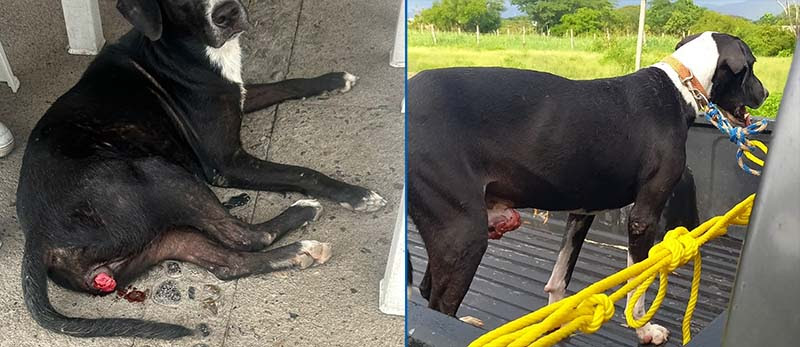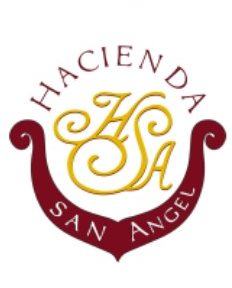 Hacienda San Angel will be hosting a Buffet Brunch for the SPCA PV on Sunday, November 5 in their lovely dining room with its amazing views.
Attendees will enjoy a gourmet brunch including numerous breakfast offerings, salmon and prime rib, classic Mexican dishes such as Mole con Pollo, and Bloody Marys with Tito's Handmade Vodka. The event will also include live entertainment and exciting auction prizes!
Hacienda San Angel and Tito's Handmade Vodka are the event sponsors and all the money raised will go to the SPCA. 
There are a limited number of 6 person tables available for $10,000 pesos per table.  If you are interested in reserving one, please contact Christopher Rising at cbrising@sbcglobal.net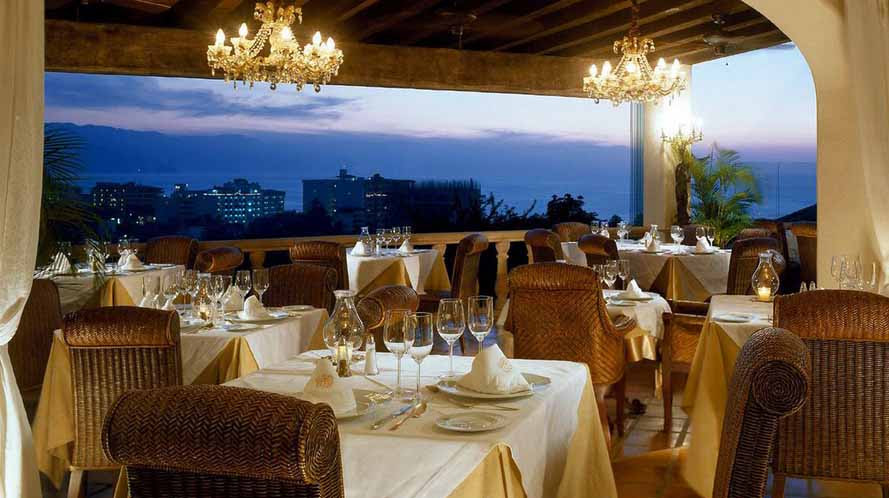 Follow us in our social media!
Our four-legged friends need your help
We are not supported by the government, corporations, foundations, or businesses. We fully function on private donations.